January 18, 2020, 01:53:42 pm
Welcome, Guest
3
on: January 09, 2020, 04:15:40 pm
Started by Jose - Last post by Jose
5
on: January 02, 2020, 11:05:59 am
Started by wishmaster - Last post by wishmaster
How to buy PANcoins
First you need NXT coins. You can find exchanges here: coinmarketcap.com/currencies/nxt/markets/
The cost of PANcoin is 10 PAN = 1 NXT
WE SELL ONLY 100 MILLION PANCOINS ON THIS PRICE.
You must send the exact price to the NXT address: NXT-QTBR-RW4L-PLBW-ACWYA.
When you send the amount, you will receive PANcoin in your Pannonia wallet, the same PANcoin address from which you sent the NXT.
Please not send NXT from exchanges, only from your wallet!
PAN and NXT addresses are the same, Private key and Passphase are the same, only the first 3 letters of the address are NXT (change to) PAN.
Example:
NXT-QTBR-RW4L-PLBW-ACWYA (NXT address)
PAN-QTBR-RW4L-PLBW-ACWYA (PAN address)
http://pannon.boards.net/thread/28/buy-pancoins
8
on: December 26, 2019, 12:48:17 pm
Started by Jose - Last post by Jose
Voting is open!
https://twitter.com/ardor_world/status/1210162675059064833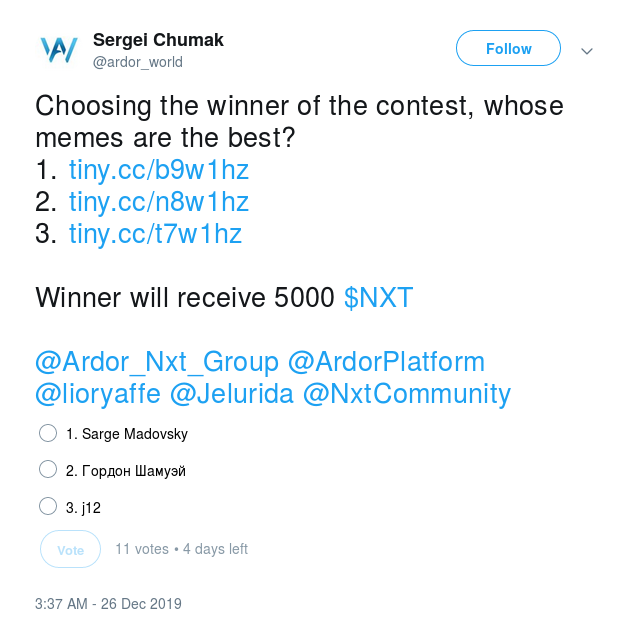 Nxt meme contest
https://twitter.com/Nxter_org/status/1177531833971544064
https://twitter.com/ardor_world/status/1177519880406331392
Telegram chat room where you can publish your memes https://t.me/ardr_nxt


Some memes for the competition have already been published
https://twitter.com/ardor_world/status/1181573126234214400
https://twitter.com/ardor_world/status/1185145636338819073