November 28, 2020, 11:16:45 am
Welcome, Guest
Show Posts
This section allows you to view all posts made by this member. Note that you can only see posts made in areas you currently have access to.
Topics - rdanneskjoldr
Pages: [1]
1
« on: April 22, 2015, 12:18:34 pm »
2
« on: February 22, 2015, 04:43:06 pm »
Hay un nuevo foro para hablar de nxt y del mundo crypto en general en castellano. Tratará todas las cryptos por igual, aunque nxt sea una de nuestras favoritas.
www.forobits.com
Tiene 2 días así que no hay contenido apenas aún. Iremos añadiendo cosas y terminando de configurar todo, pero sed bienvenidos, y total libertad para ir posteando.
Usamos la plataforma de Discourse, el sistema de foros 2.0 más avanzado... os encantará la fluidez y sencillez con la que funciona!
3
« on: October 31, 2014, 02:25:32 am »
The throne will be left empty soon, and you have the opportunity to take it.
Since the company was bought by Amaya Gaming some months ago, they've been making horrible changes for the players. They turned the nº 1 poker site into a roulette and blackjack casino that charges more fees for everything.
Players were angry with what Pokerstars was becoming, and today, they even announced major increases in rake.
http://forumserver.twoplustwo.com/28/internet-poker/announcement-pokerstars-changes-rake-spin-go-prizes-battle-planets-1485512/
They are even trying to focus traffic on Spin n Go, which is a 3 players Sit n Go, that starts with a slot machine shot to determine the prize pool players opt to. More than 80 % of the time you play for 2/3 of the buy-in you paid, and it has an average 6% rake. So it has a huge variance and it is almost impossible to beat.
These weeks there are thousands of players who will stop playing in the site. The whole world, specially regulated countries, but even in those places that are still free to play poker anywhere, are desperately looking for a place to play poker without getting screwed. The time for crypto poker has come.
Good luck nxtpoker
4
« on: September 01, 2014, 01:16:15 am »
5
« on: July 03, 2014, 12:27:55 pm »
Daniel Colman, highstakes player. He wins 1M$ buy-in event in Las Vegas for 15M $, and refuses to do any interviews. He is critizised in all media for that and by many poker players, and writes this in the 2+2 poker forum.
Maybe he could find some interest in nxt??
http://forumserver.twoplustwo.com/29/news-views-gossip/2014-1-million-buy-big-one-one-drop-no-live-stream-1428028/index182.html
I really don't owe anyone an explanation but Ill give one...
First off, I don't owe poker a single thing. I've been fortunate enough to benefit financially from this game, but I have played it long enough to see the ugly side of this world. It is not a game where the pros are always happy and living a fulfilling life. To have a job where you are at the mercy of variance can be insanely stressful and can lead to a lot of unhealthy habits. I would never in a million years recommend for someone to try and make it as a poker pro.
It is also not a game where the amateurs are always happy to be losing their money for the sake of entertainment. The losers lose way more money at this game then winners are winning. A lot of this is money they cant afford to lose. This is fine of course because if someone is dumb enough to gamble with money they cant afford to lose, that's their problem. Im not really buying that though.
In a perfect world, markets are based on informed consumers making rational transactions. In reality sadly that's not the case, markets are based on advertising trying to play on peoples impulses and targeting their weaknesses in order for them to make irrational decisions.
I get it if someone wants to go and play poker on their own free will, but I don't agree with gambling being advertised just like I don't agree with cigarettes and alcohol being advertised.
It bothers me that people care so much about poker's well being. As poker is a game that has such a net negative effect on the people playing it. Both financially and emotionally.
As for promoting myself, I feel that individual achievements should rarely be celebrated. I am not going to take part in it for others and I wouldn't want it for myself. If you wonder why our society is so infatuated by individuals and their success, and being a baller, it is not that way for no reason. It is their because it serves a clear purpose. If you get people to look up to someone and adhere to the "gain wealth, forget all but self" motto, then you can get them to ignore the social contract which is very good for power systems. Also it serves as a means of distraction to get people to not pay attention to the things that do matter.
These are just my personal views. And yes, I realize I am conflicted. I capitalize off this game that targets peoples weaknesses. I do enjoy it, I love the strategy part of it, but I do see it as a very dark game.
Happy to read any ones opinions that could convince me otherwise of my views.
It was tough, but this is the only thing they could get from him: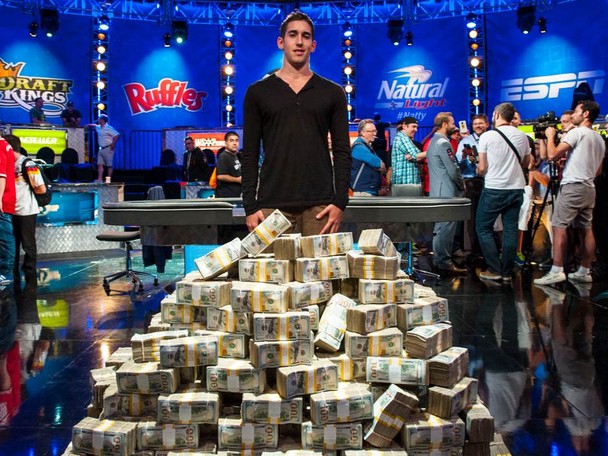 6
« on: May 11, 2014, 08:48:51 pm »
Pages: [1]